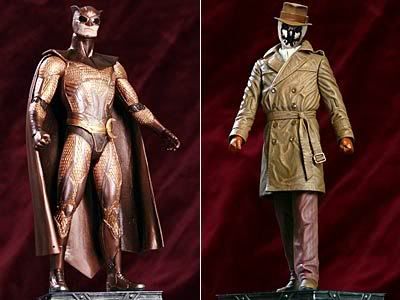 I've just finished re-reading the classic and breath taking watchman in anticipation to the 2009 movie, as you've surely been reading the site for months now, you'll have seen the pictures of the movie costumes. Well now I have more fun pictures for our loyal readers.
TOYS!!! Watchman TOYS!!! At the moment we only have two figures (
Nite Owl and Rorschach
) but boy do I want them... right now.
They look perfect, the paint works, the sculpts my only concern is the how unarticulated they look with the very basic pin joints instead of the fully posesble ball joints.
We will keep you informed as more pictures from both the film and toys come out!