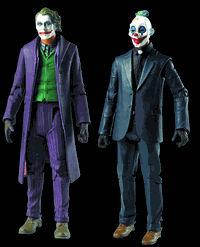 I love my toys, I get excited by toys. So you can imagine my excitement when I finally got to lay my eyes on the new Joker figure from
The Dark Knight
. I'd seen the Batman's I mean lets be honest when you've seen one Bat you've seen them all. But this is the first chance I had for a close up of the Joker out of his packaging.
The Four Horseman
(an amazing foursome from the toy power house
Mattel
), have out done themselves with these figures. The sculpts look amazing, the Joker in particular stands out with his startling purple suit, each figure stands at 6 inches so they can be used along side other Mattel/DC products.
One large improvement over there other DC ranges is articulation giving them ball joints at the elbows and knees, which to be honest most have been lacking. Mattel has said these toys are as much collectors items as things to be played with, each figure coming with a "prop" (there words not mine) based on something from the movie, the Joker has a card and one of his thugs has a change of mask etc.
Over all these are really exciting figures that I think children and adults will love, there are still more figures to come. I just hope we get some good Two-Face's out of this.