So this is a rumour that's been flying around the Internet like a mad clown on a pushbike.

Harley Quinn also known as the Pysche doctor at Arkham Asylum Harleen Quinzel. She first appeared in the animated Batman cartoon, created by Paul Dini and Bruce Timm she struck a note with the fans and soon became a big part of the batman mytho's.
If she's not with the Joker as his main sidekick/love interest then she's cavorting with that sexual temptress Poison Ivy
(Yummy lesbian implied stories there!)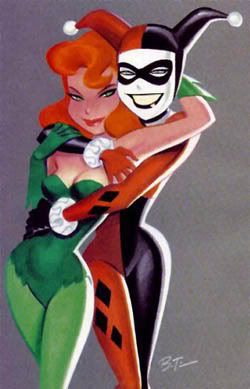 Any way enough of the back-story, this article is here to tackle the rumours still whizzing around. Is Sarah Jayne Dunn really going to be playing the "
Clown Prince of Crimes
" main squeeze in the upcoming "Dark Knight"? I know Chris Nolan allegedly shot down this rumour. But I awoke to find that
IMDB
has "confirmed" her as Harley.
Could this mean that Mr Nolan was throwing a double bluff? Or is IMDB just working with crazy rumours roaming the Wild Wild Web. My lovely lady worships Harley so this is a mixed blessing for her, could her heroine really appear in the movie and if so do we really want her played by an ex-Hollyoak's star? So many questions and so little time till we finally find out! The excitement is killing me....
If any of our readers have any info or would like to discuss this please leave a comment bellow.